A choice of straight chutes, custom-made to integrate with the Safeglide® spiral chute range.
Many design options available for complete system integration
To complement the Safeglide® spiral chutes, we are also able to provide straight chutes and customised chutes. These are also manufactured by Broadwater Mouldings and are finished to the same high quality and standards.
Our straight chutes are modular in design with additional options of flared input sections, variable length straight sections and integrated take off or picking tables.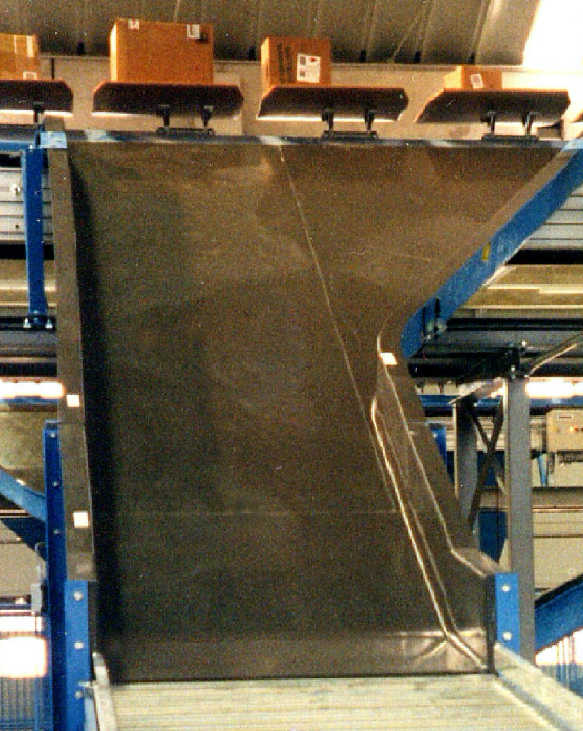 Our technical support team is here to help
If you are in the process of specifying or installing a parcels handling or sorting system, our technical support team will be happy to discuss and provide details for any elements that require straight or custom chutes.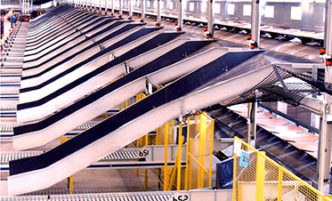 DISTRIBTION CENTRES
Straight chutes form an integral part of many distribution centres and sortation systems.
There are multiple cutes installed in this multi-tier tilt-tray sortation system. Straight chutes have been commissioned for the bottom two layers.
The chutes in the main part of this photo illustrate a flared input section with a straight exit onto picking tables. These chutes have had photocells installed so they integrate fully with their automated sorting system.
On the bottom layer you can see a simple flared input, straight onto roller conveyors.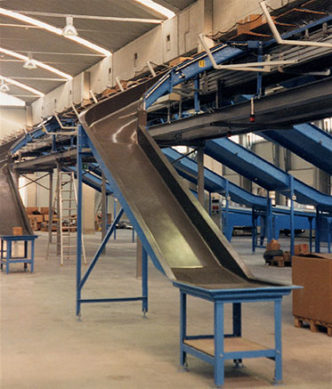 SORTATION SYSTEMS
This photo illustrates two types of straight chute, forming part of a tilt-tray sortation system.
In the background we see flared input sections, followed by a straight exit onto gravity roller conveyors.
In the foreground we can see an example of how safeglide profiles can be integrated with straight chutes to form a complete custom solution. We have a flared input section leading onto a 90-degree bend, followed by a straight exit onto a picking table. All with fully custom-built steel work to support the structure.