Safeglide® constant velocity spiral chutes are being used in a variety of applications and systems worldwide.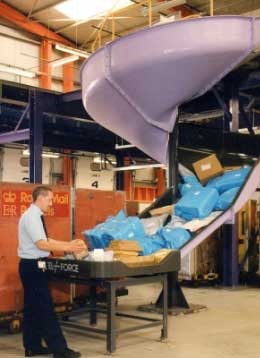 Mail sorting offices
Hand picking assorted parcels from an exit table
Safeglide® chutes were originally designed to be used in the British Post Office sorting offices. A tilt tray sorter is feeding the example shown here, but it can also be adapted to interface with most types of sorters or conveyor systems.
Take off tables can be supplied for direct hand picking and the picture demonstrates how the chute will back up and store parcels if they are not removed immediately. The stored parcels will automatically slide down as others are removed from the table.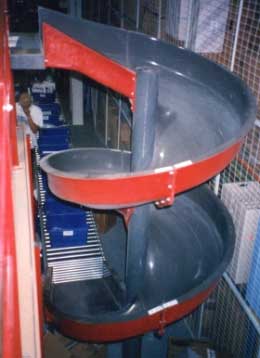 Distribution centres
Tote boxes onto gravity roller conveyors
Distribution centres are using Safeglide® chutes to quickly and safely move tote boxes down from level to level. Our spiral chutes come in a range of profiles designed to handle different sizes, weights and shapes of items and some profiles are more specifically suited to tote boxes. Check out the Safeglide® Specifiers Guide to find the chute to match your requirements.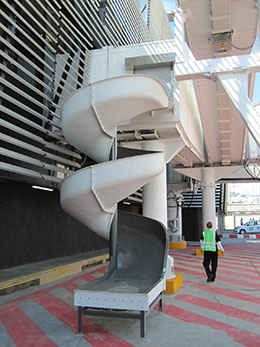 Airports
Late baggage handling
Some of the largest Safeglide® chute profiles are being used to handle late luggage at airports. The chutes have proven to be more than capable of handling suitcases and baggage of all shapes and sizes, without risk of damage or operator injury. The larger profile chutes are also suitable for moving tote boxes, parcels and post bags.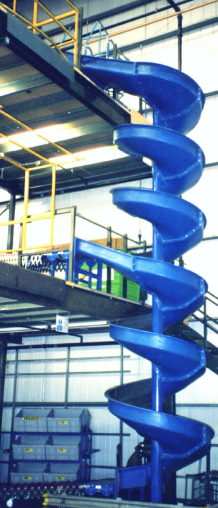 Multi-Level Warehousing
Multiple levels feed into one chute
Safeglide® spiral chutes can be easily configured to take multiple feeds. Where a warehousing system may include mezzanine floors, they can be fitted with any number of intermediate inputs to allow products to be conveyed safely down from a number of levels to a common exit level.
In this example, both of the inputs and the exit interface have been configured to link to extendable, bending gravity roller conveyors.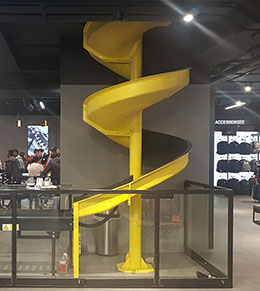 In-store retail applications
Moving goods down, from stock room to store
Safeglide® spiral chutes provide a simple and cost-effective solution when it comes to moving goods down between levels in a retail environment. The chutes work silently and efficiently, requiring no operator input or attendance, and can have a positive and dramatic impact in-store. The chutes can be finished in any colour to fit in with branding or to meet customer requirements.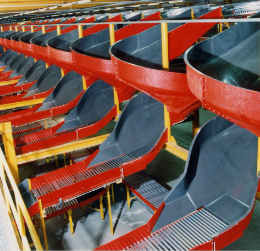 High Volume Distribution
Two tier sorter system
Safeglide® chutes have been specified by systems integrators to form a major part of a two-tier 'sliding shoe' sorter system. Parcels leaving the sorter are transferred onto a skate-wheel conveyor, which presents a straight-line entry to the chute infeeds.
From the upper tier, the parcels descend through 360° of spiral whilst from the lower tier, they travel straight through before transferring onto a gravity roller conveyor. Following this is a straight chute, also supplied by Broadwater Mouldings, and this feeds onto a boom conveyor taking the parcels directly to the delivery vehicle.
The chutes centre posts are mounted on a high-level beam, leaving a clear and open working space underneath.