Constant velocity spiral chutes
Gravity driven, designed to handle a wide range of products
No moving parts, no power required
Quiet, economical and efficient, configured to your requirements
Minimum maintenance – lasts for years
Unique ultra-tough, metallic finish requires little or no maintenance
Keeping everything moving, from small Jiffy bags to large suitcases
Driven only by gravity and using zero energy, Safeglide® spiral chutes are the most economical, efficient and low maintenance way to safely convey assorted items from one level down to another, at controlled and constant speeds.
Find out more
Safeglide® Specifier's Guide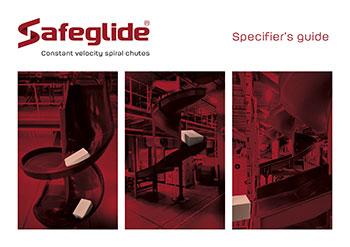 Our engineering team uses state-of-the-art computer aided design (CAD) modelling to produce 3D assemblies and 2D drawings of each chute design. The 2D drawings can be exported in formats compatible with AutoCAD programs, whilst the 3D assembly models can be exported in STEP, IGES and Wavefront formats.
For full technical details of the complete range, please download a copy of the Safeglide® Specifier's Guide below.
Safeglide® installations
Safeglide® chutes have been working successfully in a wide variety of industries and applications for over 35 years, including:
Warehouses and distribution systems
Factories/Industrial materials handling
Packaged foods/Pharmaceutical products
Mail/Parcel sorting and handling centres
Airport baggage handling
In-store retail applications