Safeglide® chutes improve efficiency and reduce costs
Once installed, Safeglide® chutes just keep on working for years with no running costs and very little maintenance
All Safeglide® chute systems are modular, this means customers can specify any infeed or floor heights, orientation, exit heights and with single or multiple infeeds. The finished sections are then mechanically attached to a steel centre post, which is assembled and tested for alignment at the factory before being dispatched.
Infeed and exit heights can vary in width depending on product size. Safeglide® infeeds have been designed to interface with almost any conveyor system, including rollers, belts and slats as well as sorters, tilt trays, cross belts, sliding shoes, pop-up rollers and diverters.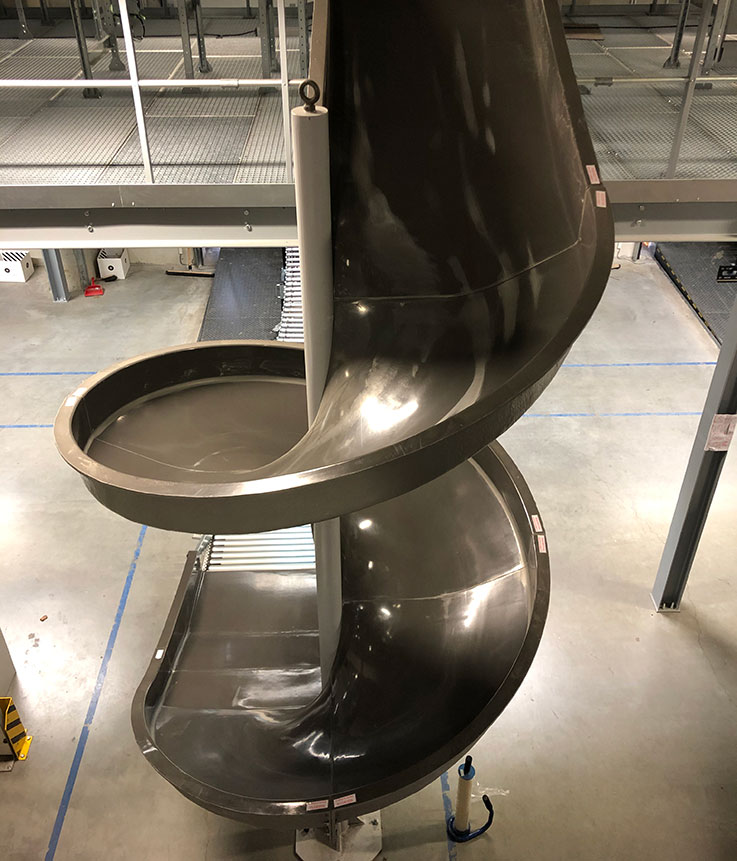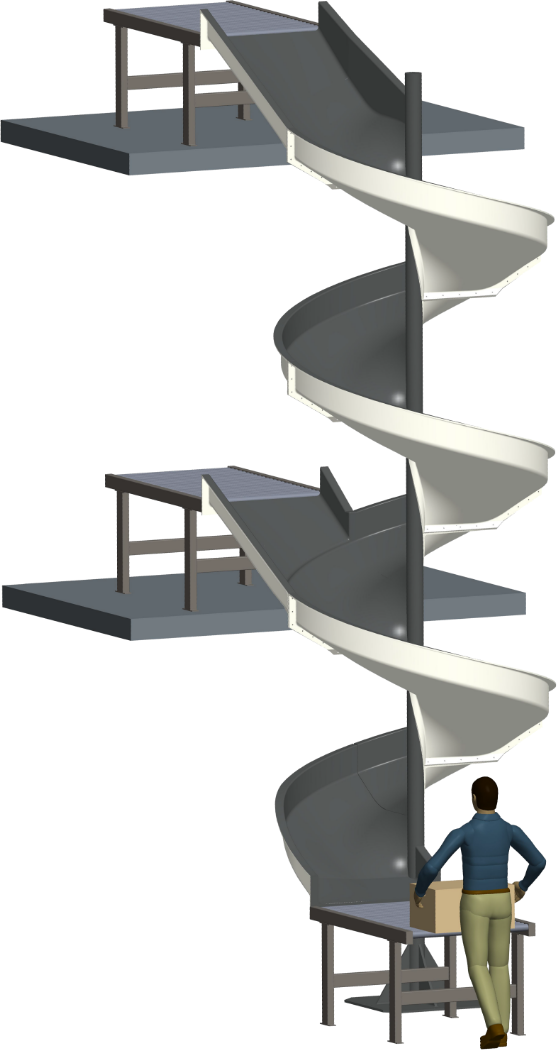 Zero running costs and no moving parts
Safeglide® chutes are powered by gravity, they are extremely safe as they have no moving parts, cost absolutely nothing to run and keep on working year after year, requiring little or no maintenance.
Because Safeglide® chutes are powered by gravity there is no threat of jamming or clogging. It also means that items temporarily stored or backed up on the chute will automatically self-start.
The compact spiral chutes are available in left (CCW) or right (CW) hand orientations and can be easily installed in confined areas, taking up minimal floor space.
Extra tough coating withstands years of use
All Safeglide® chute internal slide surfaces are coated with our proprietary low-friction polyester gelcoat and stainless steel powder mix, which is extremely hard-wearing and non-corrosive.
The composite is made using fire retardant materials and Safeglide® by Broadwater Mouldings Ltd chutes are made with UL (Underwriters Laboratories) rated materials.